ł'moom Salagyet łoodit – łoomsk
Caring for Others – Honour / Respect





GGAX Mission Statement



Gwa' łgum'ax Consulting is involved locally, provincially and nationally. GGAX has a wealth of background experience in education, including government experience. With professional experiences and academic studies, GGAX can effectively assist individuals; groups and organizations identify and address conflict.
Interpersonal, intrapersonal, intragroup and intergroup conflict can occur within organizations, districts, departments and school environments. GGAX can effectively assist individuals; groups and organizations identify and address conflict. We can 'walk you through' the internal conflicts and address the root causes that drives inappropriate behaviours. The goal is to find balance; become organizational and team conflict competent; and build better communities.
GGAX specializes in:
Building effective relationships and communication skills between individuals, groups, and communities by offering the following professional services to enhance quality relationships between those involved. Individuals and groups such as Educators, CEO's, Provincial Ministries, industries, organizations and workplace will benefit from the following services: (Please click on list below for more information)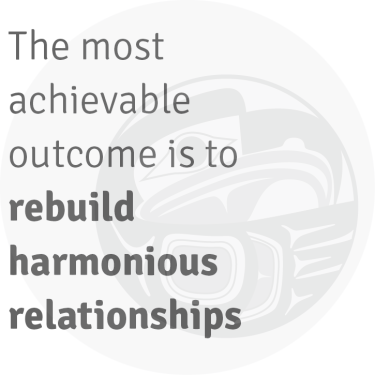 Organizations that can benefit from GGAX's services:
Industries required 'to consult' with Aboriginal political leaders
Independent businesses / Organizations
Provincial Education System
Independent Schools (First Nations)
First Nations' Health Authority
Health
Ministry of Children & Families
R.C.M.P.
The Federal and Provincial governments recognize the 'Duty to consult'; which requires various industries to actively engage and consult with Aboriginal groups: when there is conflict related to the traditional territories, this leads to misunderstandings, miscommunication, and inevitably disputes – finding resolution can be extremely difficult. We offer professional development services to the industries, and or First Nation groups to enhance awareness of, and strategies to collaboratively network and effectively communicate for common understandings. The goal is to get Individuals, groups, and organizations to identify the root causes of conflict, GGAX can work with your groups to map out and walk through the conflict process, and potential tools to address the conflict situations. The most achievable outcome is to rebuild harmonious relationships.