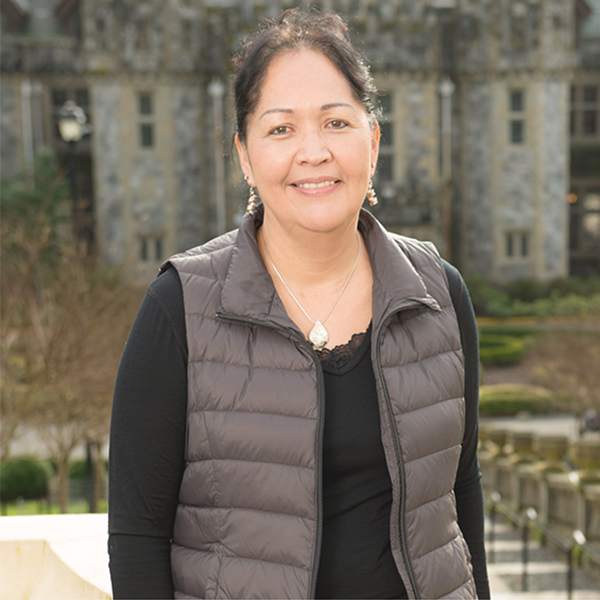 Gayle Bedard
Founder
Gayle Bedard is Tsimshian from the First Nations community of Lax Kw'Alaams (Port Simpson). She is an educator, workshop presenter, facilitator, mediator, and organization and workplace conflict consultant.
Education Experience
Gayle's academic experience and background knowledge and skills in education, First Nation's Governance and community relations can assist school districts, First Nation Schools, organizations, industry, groups and individuals to constructively deal with and manage conflict. This can include workplace conflict, mediation, dispute resolution and employee relations. Gayle believes addressing the conflict at a deeper level offers individuals and groups a way to take control of the conflict situation and find alternative solutions. She will 'walk with you' through the conflict challenges to rebuild effective and harmonious relationships.
Transition to Consultant
After many years in education Gayle was inspired to pursue a Master of Arts Degree in Conflict Analysis and Management because of the myriad of conflicts over the years in her personal and professional career. We live in a diverse society with more differences than similarities. When interaction occurs – these differences may lead to incompatibility based on the individuals values and goals. These differences can lead to conflict, and if the first reaction is conflict avoidance, this can create deep-rooted conflict where resolution may be unattainable. Based on her years of professional experience, Gayle can effectively work with and address conflict in organizations, industry, First Nation Bands Governance, communities, between individuals / groups, or the work place.
The Meaning of Gwa'lgum'ax
Gwa'lgum'ax is Gayle's traditional First Nations name that was bestowed upon her from the Eagle Clan. The meaning of the name is "water on Fire" and is related to the First Nation's fishing industry. During the fishing season there are certain times in the evening that the water will glow because of the bio-luminescence in the water. This is a defence mechanism against predators. It is during this time that fishermen will not set their nets because the fish can see their nets – the water is on fire.
The branding is a representation of Gayle's cultural identity as a First Nations woman. She belongs to the Eagle Clan, and the circle represents the moon. Gayle's ancestors believed that the moon shining bright is nature's way of ensuring the fish would return year to year by reflecting the moon's light onto the organisms in the water ­creating water on fire.